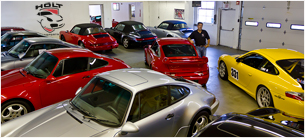 Click here to see the 2011 Porsche Rennsport Reunion pictures our Holt Motorsports team took while in Monterey, California October 2011. The meet was like Porsche heaven. See pictures of the World's Greatest Sports car, displayed by the Porsche factory, famous privateer teams and individual collectors.
Financing Options
Click the banners below for more information
Welcome to Holt Motorsports.com
50 Years! The 50th Anniversary of the mighty 911!
Holtmotorsports is proud that several of our customer's cars have been invited to shows honoring the air cooled 911. At both the Simeone Museum in September and the Radnor Hunt Concours, Holtmotorsports 911's were proudly put on display by their new owners.
911 lovers could also see the most fantastic of early 911's at the Amelia Island Concours and similar venues this year, all a result of the 50th Anniversary of our favorite Sportscar.
In fact, interest in the air cooled 911'a has never been so great.
Again, Thank You to all of our past customers and we hope to make many more friends in the future dealing in these glorious German machines.
Holt Motorsports Inc. is your source for pristine pre-owned Porsche 911 Carrera's and the guidance and the experience you need to get the best pre-owned 911 for your investment. At Holt Motorsports, we buy, sell, race and service Porsche 911's exclusively.
Holt Motorsports Inc. is located in beautiful Chester County, PA., just 30 minutes from the Philadelphia International Airport. We own our entire inventory that you see on our website. We sell only our hand picked excellent condition Porsches.
All of our Porsches are CARFAX certified as well as mechanically certified in our shop.
Or goal is to provide our customers with a choice of many great Porsches under one roof and earn your business by providing our extensive experience to each and every buyer.
The finest pre-owned Porsche cars from our resources to your Garage.
Our sales and service experience is available on a continuing basis after the sale as well!
Please review our inventory offerings and give me a call. ***
*** Holt Motorsports Inc. offers pre-owned Carrera and other models. If we do not have the 911, 930, 964, 993, 996 or 997 you seek, call anyway. Maybe it's on the way!
Tim Holt, president.